Only in Japan: Try this "dirt menu" at Ne Quittez Pas with actual, … dirt!
Tokiotours; your personal tour guide in Tokyo
It reads like a palate-pleasing menu.
You start out with a truffle soup, followed by oysters and then a main course of flounder with risotto and vegetables. There's a side of potatoes and you finish it off with a scoop of ice cream.
Here's the twist — this all comes with a generous helping of dirt. Not normal, backyard variety dirt, special nutrient-rich soil.
The unique tasting menu is the creation of Toshio Tanabe, a former gymnast and boxer turned culinary inventor. Tanabe says the dirt menu was a logical addition for his quaint restaurant, Ne Quittez Pas, which is located in Tokyo's Gotanda neighborhood.
"This is a seafood restaurant, so we have the flavors from the ocean," he says. "I was also looking for flavors from the earth."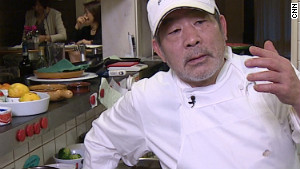 Chef Tanabe says the idea to use soil came naturally.
But this is not the typical…
View original post 173 more words